Is your truck earning as much as it could?
Our fleet management solution unlocks your truck's earning potential. Start earning more with your assets.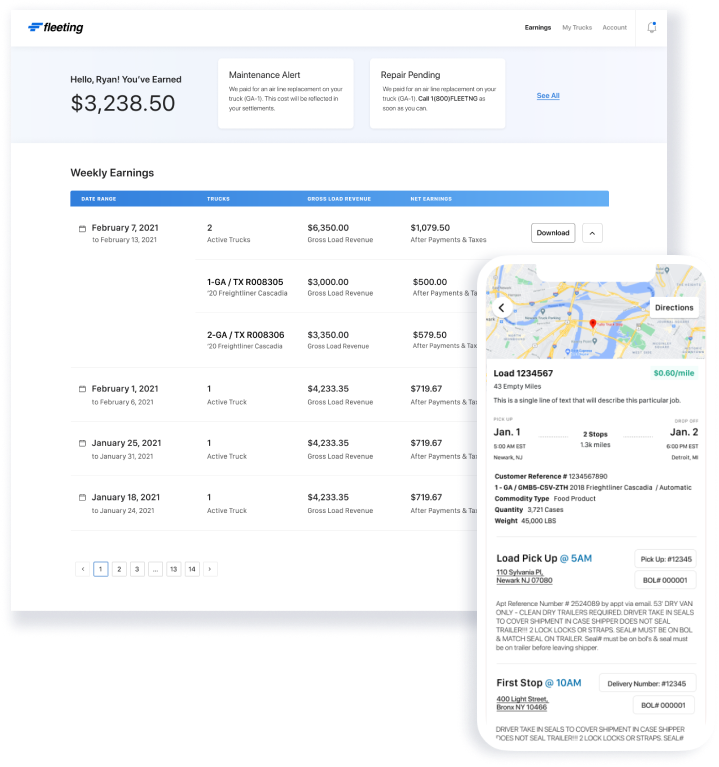 How Fleeting Works
Our end-to-end management keeps your trucks on the road, where they belong.
Fast on-boarding
We make it easy to on-board
with Fleeting
Smart load-matching
We work with a network of shippers
to find the right freight.
Driver recruitment
Tired of recruiting and booking drivers? Let us handle that.
Maintenance & Compliance
Fleeting will keep your truck compliant and operational.
Truck Owners Love Fleeting:
"The better wages alone is worth it. But what I really like is knowing that I'm going to be on the road making money consistently."
Derek G, Truck Driver
"I know my truck is in good hands. They keep me informed, and every month I'm happy when I see my settlement."
James B., Truck Owner
"Since working with Fleeting, I've never missed my daughter's Friday soccer game."
Jenna F., Truck Driver
It's easy to get started. Let's talk.

1. Submit Your Info
Give us some background information, and we'll reach out quickly to set a time to speak.

2. Let's find time to chat
We'll talk you through our service, and let you ask the questions you'd like. We look forward to winning your business.

3. Onward to more earnings
We'll on-board your truck(s), taking over management (and all of the headaches). You'll get a dashboard to track performance.